January 14, 2016
Waterloo, Ontario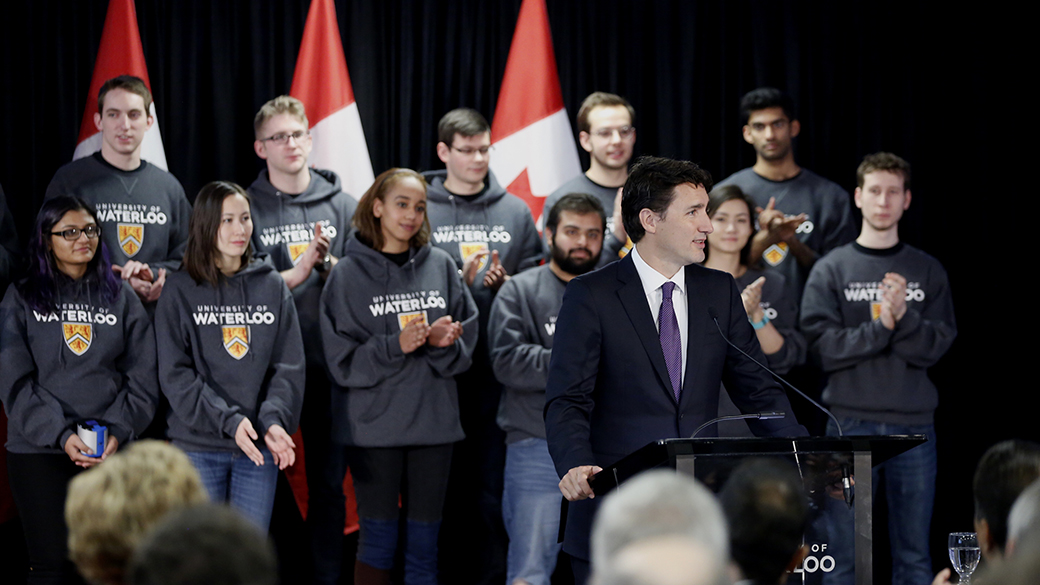 The Prime Minister, Justin Trudeau, today announced that the Government of Canada will invest $12 million in the Southern Ontario Water Consortium (SOWC) – a group of post-secondary institutions that work together to advance clean and innovative water technologies.
Canadians want to live in a country where a clean environment and a strong economy go hand-in-hand. Today's funding will allow the SOWC to partner with 90 businesses and not-for-profit organizations to support their efforts to increase innovation in 80 collaborative projects.  
These funds will help partners accelerate the commercialization of new water-related technologies, bring their products to market, and take advantage of growing global demand.
In southern Ontario, these technologies will also assist municipalities better manage their wastewater, reduce energy consumption in treatment plants, improve water quality, and create a more sustainable environment.
Quotes
"This project is a great example of government, post-secondary institutions, not-for-profit organizations, and businesses working together to drive innovation and create new jobs and opportunities for Canadians. We are committed to building a more sustainable economy that ensures we leave a cleaner and healthier environment for our children and grandchildren."
- Rt. Hon. Justin Trudeau, Prime Minister of Canada 
"The University of Waterloo is leading research efforts to find effective solutions for water-based concerns in southern Ontario. This new funding will allow us to continue this work that will benefit the region, the environment and ultimately all Canadians."
- Dr. Feridun Hamdullahpur, President, University of Waterloo 
"The support announced today will be a catalyst for industry-led collaborations in the water sector. It will enable the SOWC to help Ontario companies leverage world-class academic expertise and real-world demonstration facilities to develop much-needed water technologies. We look forward to working with our many partners to advance globally-competitive and market-ready products and services in this important sector."
- Brenda Lucas, Executive Director, Southern Ontario Water Consortium
Quick Facts
The new clean technologies that will be developed by the SOWC are related to wastewater treatment and reuse, drinking water treatment, groundwater monitoring and remediation.
The up to $12 million in Government of Canada support is being provided to the University of Waterloo, on behalf of the SOWC, through FedDev Ontario's Investing in Commercialization Partnership initiative.
Through this investment, the SOWC is expected to create or maintain 520 jobs over the course of the project and support at least 14 new partnerships.
The SOWC's 10 strategic partners include: Fleming College, McMaster University, Queen's University, Ryerson University, University of Guelph, University of Ontario Institute of Technology, University of Toronto, University of Waterloo, Western University, and Wilfrid Laurier University.

Related Products
Backgrounder: Funding for the Southern Ontario Water Consortium
Associated Links
News Release: Government of Canada Invests in Clean Water Technology
Southern Ontario Water Consortium
Investing in Commercialization Partnerships