Photo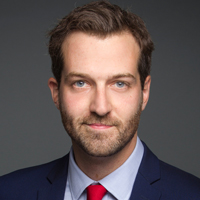 Assignment
Parliamentary Secretary to the Minister of Finance
(Louis-Hébert)
Joël Lightbound has been the Member of Parliament for the riding of Louis-Hébert since October 2015. He was the Vice-Chair of the House of Commons Standing Committee on Access to Information, Privacy and Ethics and a member of a number of other committees.
Born and raised in Sainte-Foy, Mr. Lightbound understands the issues and strengths of his community. Mr. Lightbound is a lawyer and a member of the Quebec Bar Association. He began his career with the Montréal firm Fasken Martineau DuMoulin as a student, intern, and lawyer. Mr. Lightbound then practiced law in the Quebec City area with a firm specializing in immigration law.
Mr. Lightbound earned his Bachelor's degrees in Civil Law and Common Law from McGill University, and represented the school in the Laskin National Moot Court Competition, where his team won awards for best factum, best team, and second best pair of speakers. He is pursuing his Master's degree in Information Technology Law, specializing in Internet privacy.
Mr. Lightbound has served as a Parliamentary Secretary since 2017, and is currently Parliamentary Secretary to the Minister of Finance.