Photo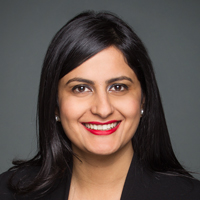 Assignment
Parliamentary Secretary to the Minister of International Development
(Brampton West)
A registered nurse, community volunteer, and political activist, Ms. Khera is passionate about improving the lives of those around her.
A first-generation Canadian, Ms. Khera immigrated to Canada from Delhi, India, at a very young age. She attended York University where she earned her Honours Bachelor of Science in Psychology and her Honours Bachelor of Science in Nursing.
Drawn to assisting others, Ms. Khera gained diverse experience in the health field through her professional experience with the Centre for Addiction and Mental Health, Peel Family Shelter, and William Osler Health Centre. Recently, Kamal worked as a Registered Nurse in the Oncology Unit at St. Joseph's Health Centre in Toronto, which gave her a deep understanding of the issues that impact people every day.
Ms. Khera is an active member of her community, having served as Chairperson of the South Asian Canadians Heritage Foundation, Mentor and Program Coordinator at Big Brothers Big Sisters of Peel, and Event Coordinator with Sick Kids Foundation. She also hosted Youth Vision – a local television talk show which explored issues surrounding young South Asian Canadians.
Ms. Khera has served as a Parliamentary Secretary since 2015, and is currently the Parliamentary Secretary to the Minister of International Development