Photo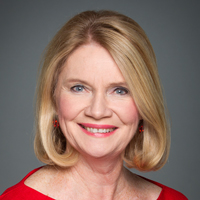 Assignment
Parliamentary Secretary to the Minister of Economic Development and Official Languages (FedDev Ontario)
London West
Kate Young was first elected as the Member of Parliament for London West in 2015.
Prior to being elected, Ms. Young had a distinguished career in journalism and public relations in both the private and public sector. She was well known as the first female news anchor at CFPL-TV in London.
As a community organizer, Ms. Young served a number of local London organizations, including the London Health Sciences Foundation Board of Directors, Fanshawe College Board of Directors, and Museum London Board of Directors. The London City Press once named her Newsmaker of the Year, in recognition of her outstanding service to the community.
Ms. Young has a diploma in Broadcast Journalism from Fanshawe College.
She is the proud mother of two children and grandmother to two grandchildren. She continues to live in the community with her partner, Brian.