Photo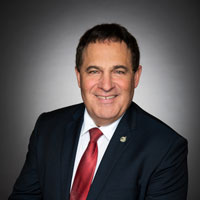 Assignment
Parliamentary Secretary to the Minister of Natural Resources
Nickel Belt
Marc Serré was first elected as the Member of Parliament for Nickel Belt in 2015.
Mr. Serré was previously the Parliamentary Secretary to the Minister of Rural Economic Development, and has served as a member of the Standing Committee on Natural Resources, the Standing Committee on the Status of Women, and the Standing Committee on Citizenship and Immigration.
Mr. Serré is an active member of the Canada-United States Inter-Parliamentary Group, the Assemblée parlementaire de la Francophonie, and chair of the Canadian Section of ParlAmericas Network. He was a member of the Canadian delegation in the United Nations' 62nd Commission on the Status of Women in New York, and took part in NATO's 63rd Parliamentary Assembly in Bucharest, Romania.
Mr. Serré earned an Honours Bachelor of Commerce degree with specialization in Human Resources and Marketing from Laurentian University. He is also an award-winning telecom technologies researcher and developer, and received the Canadian CANARIE IWAY Award in recognition of his innovative and outstanding achievements in Internet adaptive technology. He is the recipient of the Ontario Community Action Award for his work in the non-profit and disability sectors.
Born and raised in Nickel Belt in Greater Sudbury, Mr. Serré comes from a long line of community volunteers and politicians dedicated to facilitating change and growth in their community. Mr. Serré is a proud francophone and Métis descendant from all four grandparent familial lineages. He is an avid fisherman and enjoys the many outdoors activities Nickel Belt has to offer with his wife Lynn Loiselle-Serré and five children.