Photo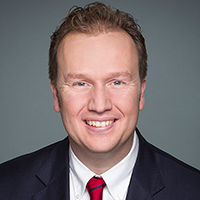 Assignment
Parliamentary Secretary to the Minister of Natural Resources
Sudbury
Paul Lefebvre was first elected as the Member of Parliament for Sudbury in 2015.
An accomplished tax lawyer, business owner, and former Commissioner to the Human Rights Commission of Ontario, Mr. Lefebvre is a resident of Northern Ontario with a passion for improving his community.
He owned the local private French-language radio station, 98.9 FM (Le Loup), and expanded its reach by establishing a new station in the Nipissing area. He also owned the francophone newspaper, Journal Le Voyageur, where he transformed the weekly publication into a regional newspaper, increasing its circulation from 8,000 to 18,000.
Mr. Lefebvre is the past chair of the Sudbury Community Foundation and the 2011 Canadian Francophone games, and the past Vice-President of the Association de la presse francophone. A music enthusiast, he is also a founder and past chair of the Jazz Sudbury Festival.
Mr. Lefebvre taught international taxation at the University of Ottawa's Faculty of Law, and has written articles on taxation that have appeared in numerous publications, including Lawyer's Weekly and the Canadian Tax Journal.
Mr. Lefebvre is married to dermatologist Dr. Lynne Giroux, and they have three young children.