Photo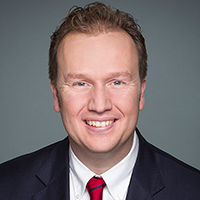 Assignment
Parliamentary Secretary to the Minister of Natural Resources
(Sudbury)
An accomplished tax lawyer, business owner, and former Commissioner of the Ontario Human Rights Commission, Paul Lefebvre is a resident of Northern Ontario with a passion for improving his community.
Mr. Lefebvre earned a Law Degree from the University of Ottawa and a Masters of Taxation from the University of Waterloo. He practiced law at Ernst and Young, Couzin Taylor, Weaver Simmons, and Lefebvre Law for 15 years until becoming Member of Parliament for Sudbury in 2015.
Mr. Lefebvre is the past chair of the Sudbury Community Foundation, the past chair of the 2011 Canadian Francophone games, and the past Vice-President of l'Association de la presse francophone. A music enthusiast, he is also a founder and past chair of the Jazz Sudbury Festival.
Mr. Lefebvre taught international taxation at the Faculty of Law at the University of Ottawa and has written articles on taxation that have appeared in publications, including The Lawyers Weekly and the Canadian Tax Journal.
He is currently Parliamentary Secretary to the Minister of Natural Resources.