Photo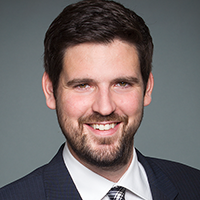 Assignment
Parliamentary Secretary to the Minister of Environment and Climate Change
(Central Nova)
Sean Fraser was elected as Member of Parliament for Central Nova in 2015. He is a long-time volunteer, having served as the Vice President of a local branch of the United Nations Association in Canada, acted as a Research Fellow with the Centre for International Sustainable Development Law, and provided pro bono legal services to the Boys and Girls Club and underprivileged community members.
Mr. Fraser is a Pictou County native with family throughout the Town and County of Antigonish. He graduated from East Pictou Rural High School and holds a law degree from Dalhousie University, a Master's degree in Public International Law from the Netherlands' Leiden University, and a Bachelor of Science from St. Francis Xavier University. Prior to running for office, Sean had a successful career with one of Canada's top-ranked law firms, where he practiced commercial litigation and international dispute resolution.
He is currently on the House of Commons Standing Committee on Transport, Infrastructure and Communities as well as the House of Commons Standing Committee on the Status of Women.
He is currently Parliamentary Secretary to the Minister of Environment and Climate Change.