Photo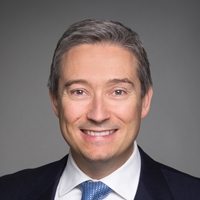 Assignment
Minister of Infrastructure and Communities
Location
(Saint-Maurice—Champlain)
The Honourable François-Philippe Champagne was elected the Member of Parliament for Saint-Maurice—Champlain on October 19, 2015.  
Businessman, lawyer and international trade specialist, Minister Champagne has more than 20 years of experience in large international companies, particularly in the fields of energy, engineering, and innovation.
He was Vice-President and Senior Counsel of ABB Group, a leader in cutting-edge technology that operates in more than 100 countries. Later, he served as Strategic Development Director, acting General Counsel, and Chief Ethics Officer and Member of the Group Management Committee of AMEC, a world leader in the energy sector.
In 2009, Minister Champagne was named Young Global Leader by the World Economic Forum. He has also served on several boards over the years, including Incheon Bridge Corporation (South Korea) and C3E (Center of Excellence in Energy Efficiency), and was President of the Canadian-Swiss Chamber of Commerce.
Minister Champagne served as a parliamentary secretary from 2015 until 2017, when he was appointed Minister of International Trade. He currently serves as Minister of Infrastructure and Communities.