Photo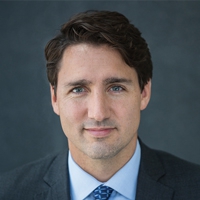 Assignment
Prime Minister of Canada
The Right Honourable Justin Trudeau (born December 25, 1971) is Canada's 23rd Prime Minister.
Prime Minister Trudeau's vision of Canada is a country where everyone has a real and fair chance to succeed. His experiences as a teacher, father, leader, and advocate for youth have shaped his dedication to serving Canadians – and his commitment to make Canada a place where everyone has the opportunities they need to thrive.
The oldest of three boys, he was raised speaking both French and English, growing up with the profound influence of his father, Pierre Elliott Trudeau, and his mother, Margaret Trudeau. This background helped spark his passion for public service and shaped his conviction that diversity is Canada's strength.
Prime Minister Trudeau earned a Bachelor of Arts in Literature from McGill University in 1994. He went on to complete the University of British Columbia's education program, and spent several years teaching French, math, and other subjects in Vancouver.
Before entering politics, he served as the Chair of Katimavik, on the board for the Avalanche Canada Foundation, and as an advocate for young people and the environment, speaking at events and conferences around the country. These experiences made it increasingly clear to him that the issues young Canadians care about – education, the environment, their generation's economic prospects – needed a stronger voice.
Prime Minister Trudeau entered politics to make change that would better serve all Canadians. In 2007, he built a community-based, grassroots campaign to win the Liberal Party nomination in the Montréal riding of Papineau. He was elected Member of Parliament for Papineau in 2008, and was re-elected in 2011, 2015, and 2019.
He was elected Leader of the Liberal Party in April 2013, and, in October 2015, he led his party to victory. He was sworn in as Prime Minister and Minister of Youth on November 4, 2015.
Prime Minister Trudeau works hard every day to build an economy that works for the middle class and people working hard to join it. Under his leadership, the Government of Canada cut taxes for the middle class while asking the wealthiest Canadians to pay a bit more, strengthened the Canada Pension Plan to make sure seniors have the support they deserve, and introduced the Canada Child Benefit, putting more money in the pockets of nine out of 10 families.
Since 2015, more than a million new jobs have been created, unemployment is at its lowest since the 1970s, and nearly a million people have been lifted out of poverty, including 300,000 children.
His team has also taken ambitious steps to fight the climate crisis and protect the environment, from making historic investments in conservation, to creating a national Oceans Protection Plan, to putting a price on the pollution that causes climate change.
Prime Minister Trudeau continues to fight for workers, families, and the middle class to make sure all Canadians can share in a more prosperous future. In a rapidly changing world, where rising populism and growing inequality threaten to take us backward, he is determined to keep Canada moving forward.
Prime Minister Trudeau is married to Sophie Grégoire Trudeau. They are the proud parents of Xavier, Ella-Grace, and Hadrien.
   [Download High resolution (Colour) photo]
   [Download High resolution (Black and white) photo]