Photo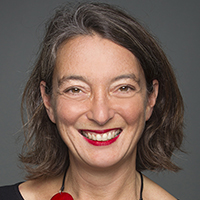 Assignment
Parliamentary Secretary to the Minister of Canadian Heritage
Toronto—Danforth
Julie Dabrusin was first elected as the Member of Parliament for Toronto—Danforth in 2015. 
Ms. Dabrusin grew up in Montréal and completed her undergraduate degree in Middle East Studies at McGill University, before attending law school at the University of Toronto. She then practiced litigation, including serving for a time as commission counsel to the Toronto External Contracts Inquiry, which reviewed municipal government procurement.
Ms. Dabrusin was an active volunteer in her community. She founded Friends of Withrow Park, served on the Board of Directors of Park People, and started initiatives such as the local Second Harvest Hunger Squad.  In 2012, she was awarded the Queen's Diamond Jubilee medal for her community service.
Ms. Dabrusin has been a strong advocate for her community on issues of gun control, healthy eating and banning single-use plastics. She is also a champion of Canada's creative and cultural industries. 
In the 42nd Parliament, Ms. Dabrusin served as a member and Chair for the Standing Committee on Canadian Heritage. 
She and her family have lived in the Toronto—Danforth area for over 20 years.