Photo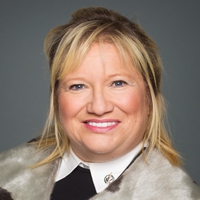 Assignment
Parliamentary Secretary to the Minister of Intergovernmental and Northern Affairs and Internal Trade
(Labrador)
Prior to her election to the House of Commons in May 2013, Yvonne Jones served as a member of the House of Assembly of Newfoundland and Labrador for Cartwright-L'anse au Clair since 1996. She held positions as Parliamentary Secretary to the Department of Works, Services and Transportation and to the Department of Health. In 2003, Ms. Jones became the first woman in the province to be appointed Minister of Fisheries and Aquaculture. She was also the Minister Responsible for the Status of Women.
Ms. Jones was appointed Interim Leader of the Liberal Party of Newfoundland and Labrador and Leader of the Official Opposition on November 15, 2007. On July 30, 2010, she became the Leader of the Liberal Party of Newfoundland and Labrador. Prior to her career in politics, Ms. Jones enjoyed a career as a journalist and worked throughout the province as a news reporter with Trans-Continental and the Evening Telegram.
She also worked as a contract researcher at Memorial University and as an Employment Counselor with Human Resources Development Canada.
As an entrepreneur, Ms. Jones has owned and operated small businesses in both the transportation and tourism sectors in Labrador.
She is proud of her Inuit ancestry and has been a strong advocate in advancing Northern and Indigenous peoples in Newfoundland and Labrador and across Canada's North.
Ms. Jones has served as a Parliamentary Secretary since 2015, and is currently Parliamentary Secretary to the Minister of Intergovernmental and Northern Affairs and Internal Trade.